On July 19, 2017,  the live stage production of FRANK The Man The Music was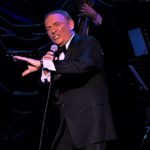 shot in 4K Ultra high-definition, at the Landmark Avalon Theater in Hollywood for the dual purpose of a television special and a documentary film.
Bob Anderson Productions LLC was a privilege to work with HMPE , the production company for the television taping. Hollywood Motion Picture Experience is a high-end production company with facilities in California and Nevada.

Created by Todd Fisher, HMPE is built on the same principles that made Hollywood the world's center for entertainment. HMPE uses the latest cameras and high-end production equipment along with a team of highly skilled and talented people to deliver the best possible end result. Hollywood Motion Picture Experience is dedicated to reviving the old "Hollywood System", utilizing modern technology and new production and distribution methods.