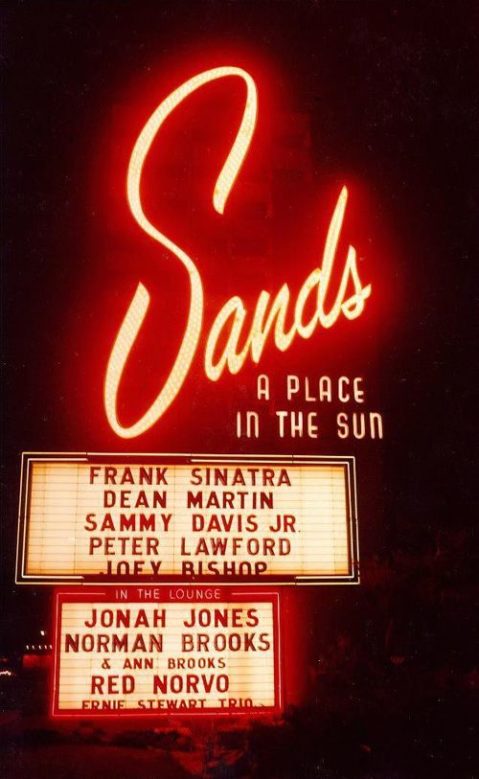 Frank Sinatra and his music left an indelible mark on Bob Anderson. His story reads like a classic novel.
After three days of driving and sleeping in his old Volkswagen Beetle, a young singer, named Bob Anderson, found himself on the Vegas strip in front of the Sahara Hotel, a place that would change his life almost instantly and forever. So, with what little money he had left, Anderson parked his old Volkswagen in the back of the hotel and went inside for a drink. While sitting at the bar, Anderson struck up a conversation with a journalist named Mark Tan, a Las Vegas writer and critic. Tan invited Anderson to join him at Nancy Sinatra's rehearsal, with The Everly Brothers.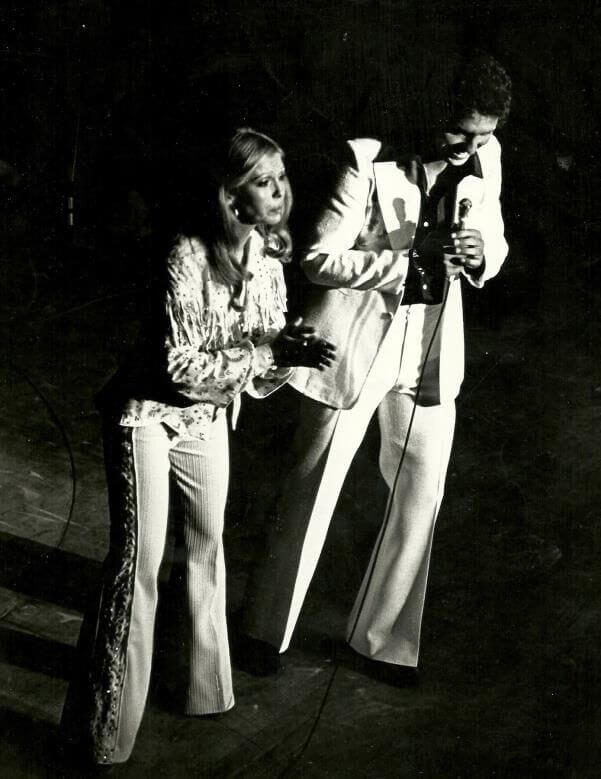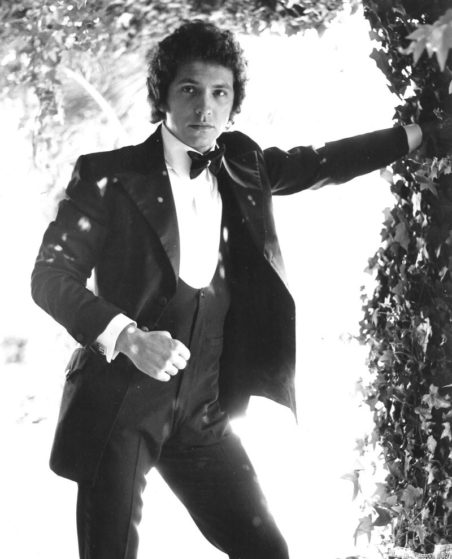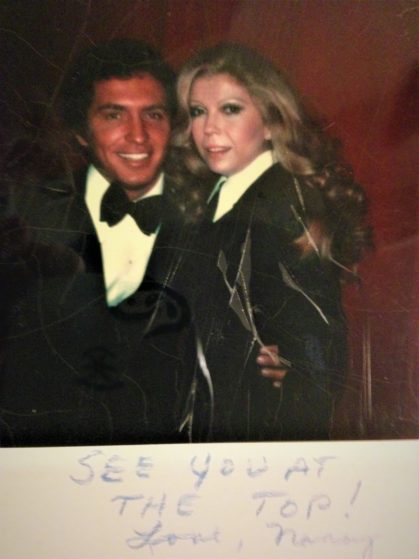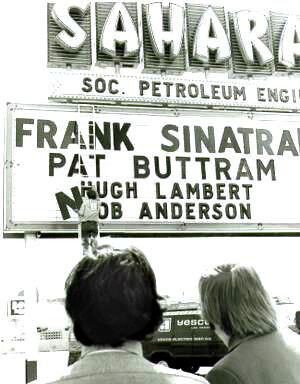 During that rehearsal The Everly Brothers, who were to perform that night with Nancy and sing duets with her, got into an argument with each other and walked off stage.
After Mark Tan told Anderson that Nancy couldn't find anyone who could get there in time to open her show, Anderson told his new friend that he was a singer. After Tan stopped laughing, he said, "Go and tell her". Anderson walked up to the stage and said, "Hey, I'm a singer, I can do whatever you need."
Billy Strange, Nancy's producer and conductor, who also produced a number of her father's works, said, "Give the kid a mic, this might be funny." So they kicked off a song, Anderson sang it and an hour after that successful audition, Anderson was in a limousine with Nancy Sinatra on his way to Bob's Tuxedo Shop to get a suit for that night's show.
That morning, Anderson pulled into the Sahara Hotel and saw the name Frank Gorshin on the marquis. That afternoon, looking down from his top floor suite that used to belong to The Everly Brothers, he watched as his name was put on that very same marquis.
Four days later, Nancy brought the young singer with her to the Merv Griffin show. After introducing Anderson to Griffin, Merv asked him if he would sing a song. Anderson was not doing impressions at the time. He sang the song, If written by David Gates, and received a standing ovation on his first National Television appearance. Needless to say…Merv was impressed.
They had already changed Gorshin to Sinatra and were just getting ready to change the name Frank to Nancy when this picture was taken.
Approximately eight hours
after Bob Anderson walked into the Sahara Hotel in cutoffs and a t-shirt and pretty much broke, he was on stage, performing in the main showroom with Nancy Sinatra!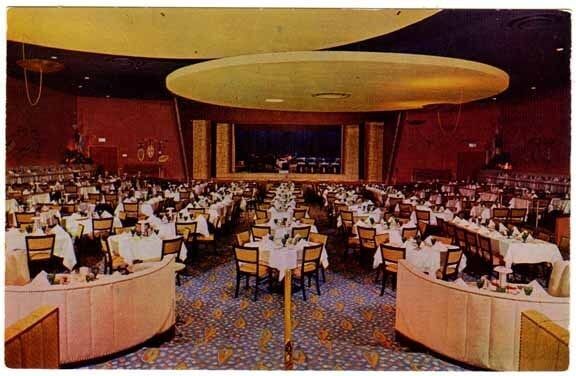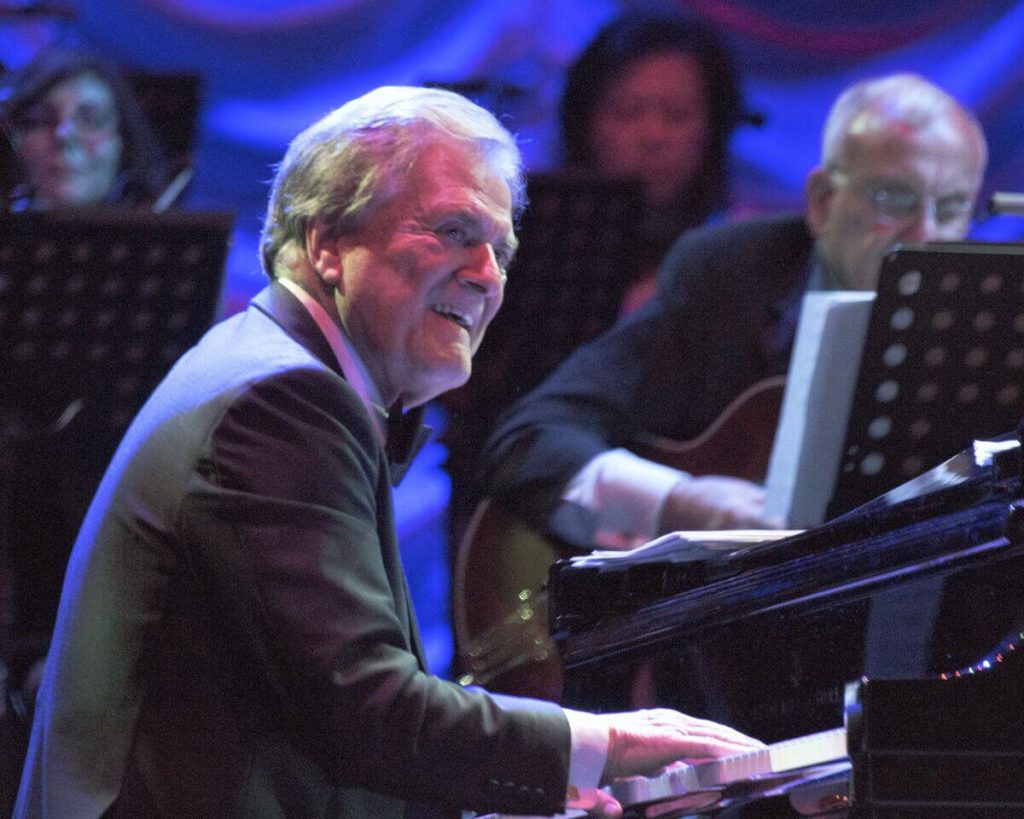 The STORY
"When I started to work on being FRANK, I spent more than a year getting up at 6 am, four days a week practicing two hours a day. When word got out that I was working on this project, I received a number of Sinatra video performances from friends as well as fans that I had never met. I watched every gesture he made and at what point in a song he would make it. The way he cocked his head and pointed his finger, his walk and everything else that makes him who he is. I wanted everything to be as close to reality as I could get it.
The first person I went to when I got the idea, was Vince Falcone, Sinatra's musical director and most trusted musical advisor for years.
As a conductor, musical director and accompanist, no one is respected more than Vince Falcone.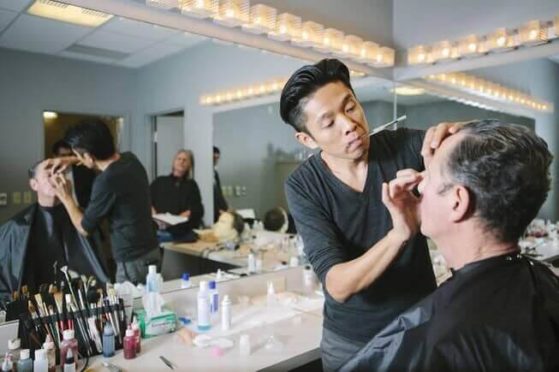 As far as the look goes, I commissioned one of Hollywood's top make-up artists, Kazu Tsuji (photo above), to turn me into Frank Sinatra. His work is extraordinary. Kazu provided the make-up and facial reconstruction for Brad Pitt in, "The Curious Case of Benjamin Button" and Jim Carry in, "How the Grinch Stole Christmas", the revised "Planet of the Apes" and many others.
Because Kazu's schedule did not allow him to leave Los Angeles for more than two or three days at a time, I was then introduced to Emmy Award Winner, Ron Wild (photo left). Ron is a master of his craft and became my make-up artist for almost all of my performances in the show. Both Kazu and Ron told me that they could only go so far when it comes to capturing the exact look of another person in make-up. They got it pretty close."
Bob Anderson
It takes two hours for the transformation into Frank Sinatra, then Anderson does the rest…the posture, the walk, the smile, the mannerisms and the voice.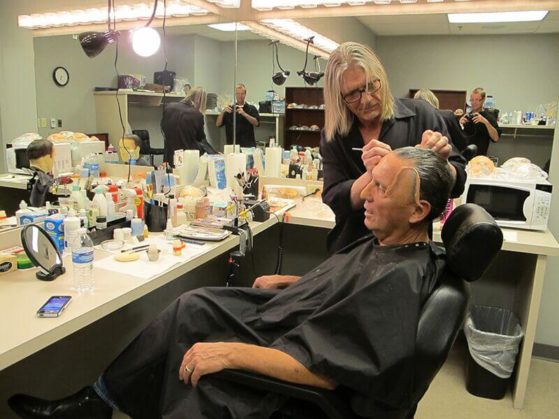 Bob ANDERSON
Once upon a time, Bob Anderson was the very best singing impressionist in the world. You know what? He still is. He's better than anyone who could, for a minute, make you close your eyes and think you were hearing Elvis or Bennett or Dean or Sammy or Nat King Cole or anyone who could hold a note. He has an uncanny ability to capture not only the voice and singing style of his subjects, but their complete look and personality as well. Anderson is the consummate professional and he more than worked hard at honing his craft. He studied. He was meticulous, to a phrase, to a twitch, to the slightest nuance. He made you believe.
Once again, he is making people believe in his one-man tour de force show. FRANK The Man The Music is a perfectly executed grand theatrical production that honors Frank Sinatra, the greatest saloon singer that ever lived and his enormous contributions to The Great American Songbook. Anderson delivers the performance of his life in a 90 minute re-enactment of Sinatra and his music, as performed in television specials,recording studios and supper clubs. And while Anderson naturally belongs in front of a stage-spanning orchestra, has the handsome looks of a Rat Pack star, and the confidence of a guy who doesn't live in the shadows of the greats he impersonates, for FRANK The Man The Music, he's gone a giant step further. The result is the consummate dedication to Sinatra and his music.