Bob Anderson is a link to one of the greatest periods of music ever given to the world and could well be called America's Ambassador of Music.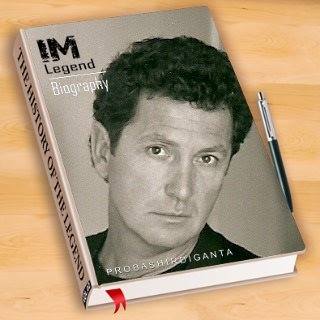 In 2015, VH1 voted Bob Anderson the #1 celebrity impersonator in the world, an honor that was also given to him by People Magazine.
In addition to his spot-on impressions, he is a highly acclaimed singer in his own right. A very close friend of Anderson's, the legendary Tony Bennett, proclaims, "He does me really well, doesn't he? He does everybody well, that's his gift. His vocals, gestures and characteristics of the artist are absolutely accurate."
When Frank Sinatra and Dean Martin were guests at Anderson's show in Atlantic City, Dean Martin quipped, "You do me better than me," and with his arm around Anderson, a smiling Sinatra said, "Kid, you have a hell of an act!"
Anderson's story reads like a classic novel.
In 1973, he snuck into the Sahara's Congo Room to watch a Nancy Sinatra rehearsal. During that rehearsal, Nancy's opening act, the Everly Brothers, got into an argument and walked out. Enter 23-year-old Bob Anderson. He told the musical conductor that he was a singer, so with only a few hours until the start of the show and no opening act, Nancy Sinatra's producer handed Anderson a mic and let him prove himself. He did. Anderson went on in place of the Everly Brothers that night and played the entire two-week engagement at the Sahara. Shortly after that engagement, Anderson accompanied Nancy Sinatra to The Merv Griffin Show. That was Anderson's first appearance on national television and he got a standing ovation.
Merv Griffin was very impressed with Anderson and months later, after seeing him perform at the Ye Little Club in Beverly Hills, he invited Anderson to his 50th birthday celebration. It was at Merv Griffin's party, attended by many Hollywood elite, where Anderson started singing and imitating the voices of well- known vocalists. The crowd loved it! Cary Grant was sitting on the floor by the piano saying, "This is really amazing, I have never seen anything like this!"
Merv Griffin spent the next 24 hours writing Anderson's act and one week later, he brought Anderson to Caesars Palace for a return engagement on his show and introduced Anderson to the world as "The Singing Impressionist!"
A short time later, the young Anderson was hired to perform for 2 weeks at The Top of the Dunes and the rest, as they say, is history.
Those 2 weeks turned into 155 weeks of sold out performances.
Anderson soon became a regular on every talk and variety show with over 200 appearances on television including: Showtime, HBO, Mike Douglas, The Merv Griffin Show, David Letterman and The Tonight Show with Johnny Carson. Anderson was the only guest in the history of The Tonight Show to be invited on the show twice in one week.
Anderson has performed in more Las Vegas show rooms than just about anyone in the history of Las Vegas entertainment.
When Las Vegas celebrated 50 years of entertainment, Bob Anderson was voted #12, between Barbra Streisand and Ray Charles, of Las Vegas all- time favorite acts. He has been voted "Best Entertainer" in Las Vegas six times and has been inducted into Casino Legends Hall of Fame and The Las Vegas Entertainer's Hall of Fame.
Anderson wrote and starred in the award winning show, FRANK The Man The Music at The Palazzo Theater in Las Vegas, once home to the Sands Hotel and the infamous Copa Room. Within weeks of opening, FRANK became the talk of the town and the must-see show.
Media from around the world called the production the most authentic re-enactment of a Frank Sinatra concert ever performed on a live stage.
Night after night, Anderson received multiple standing ovations for his chilling performance as Ol' Blue Eyes. He was awarded "Best Headliner for 2015", "Best Live Performance for 2015 " and FRANK The Man The Music garnered "Best Live Show for 2015."
The running theme and spirit of every review of FRANK was, "I saw Frank Sinatra the other night. I don't care if it was Bob Anderson, I saw Frank Sinatra the other night."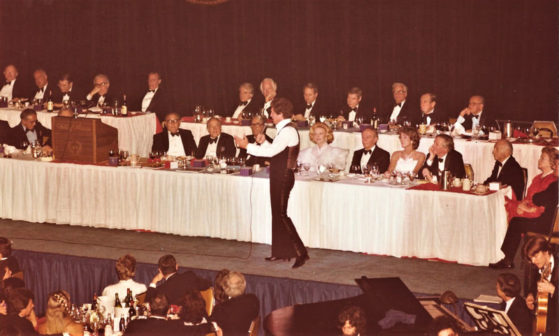 One of the greatest experiences in Bob's life was when he was invited to perform at a Henry Kissinger "roast" at the Waldorf in New York City. The president of NBC, Dave Tebet, saw Bob on The Tonight Show with Johnny Carson and asked him to perform. In this picture, you can see Bob entertaining the prestigious dais which included President Gerald Ford, Bob Hope, David Rockefeller, Gregory Peck, Kirk Douglas just to name a few. Barbara Sinatra is also among the illuminaries and you can see an empty chair next to her. That empty chair belongs to Frank, who is coming out next but was now in the wings thoroughly enjoying Bob's performance!